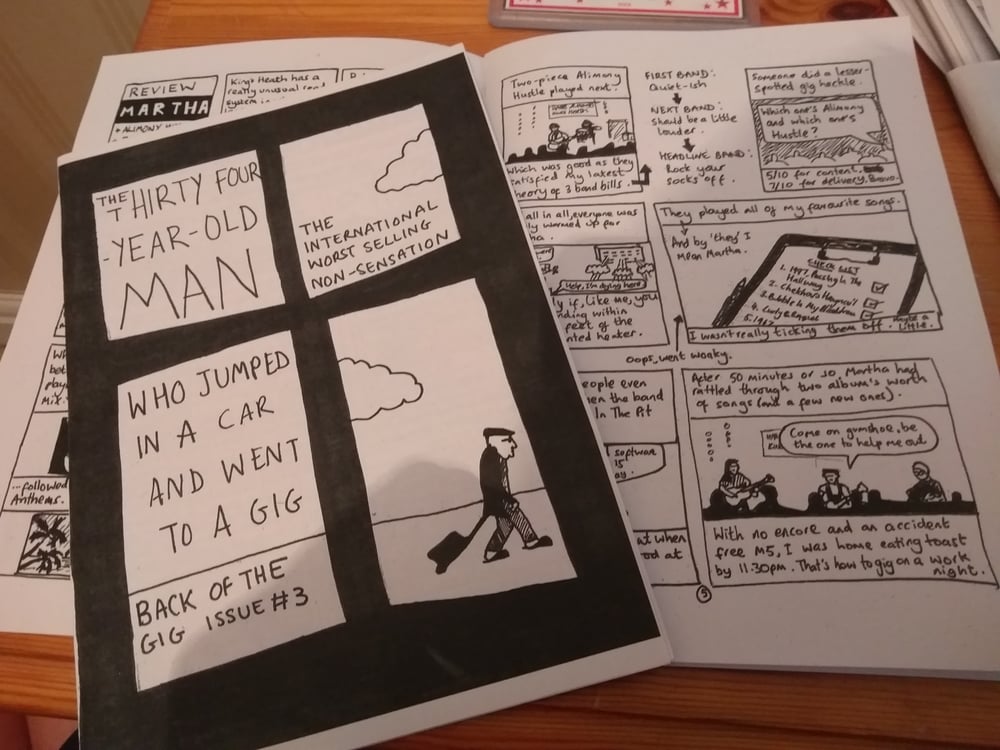 IMPORTANT: Our shop is now located at https://backofthegigzines.bandcamp.com/ It has a greater range of fanzines - please order from there.
Size: A5
Pages: 12
Back Of The Gig #3 is mostly music reviews, but in the loosest sense of the term. I spend more time talking about traffic than I do about bands. So if you would like to hear about how busy the M5 is on a Friday night, then this zine is for you!
Bands 'reviewed' include: Martha, Alimony Hustle, Elly Kingdon, Grace Petrie, Jim Lockey, The Spook School, Peaness, Radiator Hospital, Tellison, Fresh, Happy Accidents, and Itoldyouiwouldeatyou.
Once again, I've attempted to draw the whole thing in a cartoon format even though I can't draw very well and I don't have the patience to draft anything.
Also features a poem about why people should not talk at gigs.
NOTE ABOUT POSTAGE: All postage is 75p for the first zine and FREE for every subsequent one you order. I've deliberately kept prices as low as Royal Mail and Paypal lets me. Essentially, 1 zine will cost you £1.15 including postage. 2 zines cost £1.55, 3 zines cost £1.95 (and so on and so forth).